MCPE/Bedrock Hunter VS Prey! (2021) (1.17)
Hunter VS Prey! (2021) (1.17)
Ever wanted to play a simple minigame with your friends? Maybe a minigame where you could hunt one of your friends whilst they try to survive? Or maybe YOU want to survive your friends? Well oh boy do I have the perfect thing for sure!
Welcome to Hunter vs Prey! Obviously, the game consists of two groups, Hunter and Pray. The hunter is given OP armor and OP weapons and a couple stacks of building blocks in which they can bridge or do whatever within the entire map. The hunters only objective is to kill the prey.
The prey is given decent armor and decent weapons, although, not as strong as the Hunter's items. They are also given a couple stacks of building blocks to bridge or do whatever in the map. The Prey's only objective is to survive the Hunter. The prey also has the ability to go into creative and get several items to try and kill the hunter with, or just annoy. The only rule is that the items cannot be OP. You can get spawn eggs and stuff if you want. Of course I'm not gonna boss you around much, so you can do whatever you want with the items, but that's how the rules went with my buddy.
Just in case, I've put the rules inside the map if you actually want to follow my rules.
There is no main goal for the Prey, the game is just to mess around and have fun. If you want, you could add a timer and add your own point system.
The terrain you play in is not made by me, it is made by Bastraction, click his name if you want to see his page.
This is how the world you will play in looks like!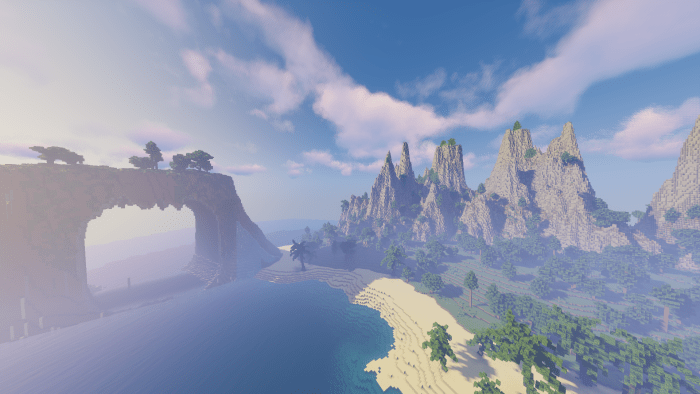 DISCLAIMER: I REPEAT, THE TERRAIN/WORLD IS NOT MINE, I DID NOT MAKE IT. Bastraction MADE THE WORLD
I ONLY MADE THE MINIGAME.
Bastraction GO TO HIS PAGE
the map i used:
Changelog
changed desc to show that i used permission, so i could upload this map.
Topic starter
Posted : 16/10/2021 11:42 am