MCPE/Bedrock Carry Animals Add-on
Carry Animals Add-on
Sometimes animals are hard to lure using wheat, seeds or carrots they sometimes just ignore the lure or they are too slow. When you leash them sometimes they escape because your too fast. This add-on makes it easier to bring animals anywhere and I hope you enjoy!
This simple Add-on lets you carry animals anywhere and you don't need any lure or leash to bring them to a certain spot. You just need to sneak and come near them and you will carry them. Sadly when viewing at first person you can't see the animal you're carrying but when in third person you can see them.
These are the animals that you can carry: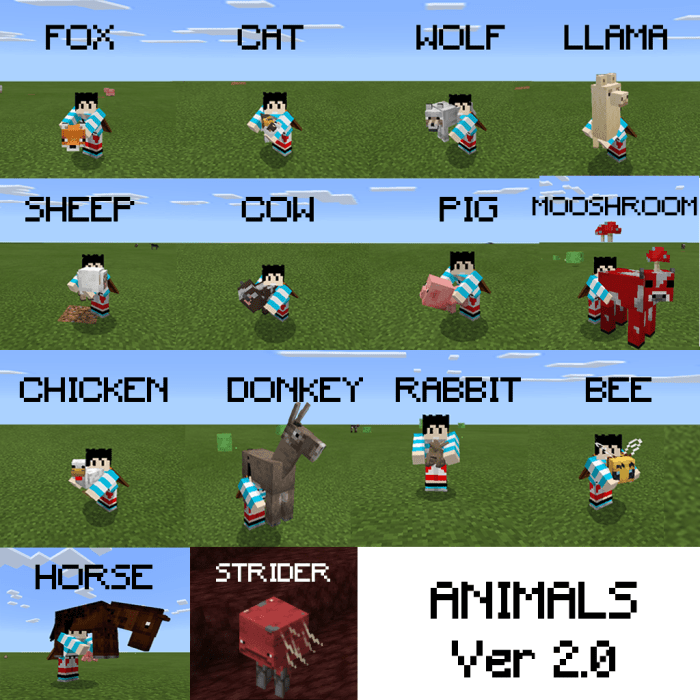 This add-on is compatible with android/IOS or windows 10 and you do not need to turn on experimental mode on your world that means you can use this in your realm servers.
Enjoy carrying your animals! 😀
There is an alternate version of this add-on the "OTHER" below.
Changes in the alternate version:
Changed carrying animation

Move all mob position on the head

Can now carry mob without crouching

All mobs with family type "mobs" can now be carried (ALL VANILLA MOBS)

(BUG) Your arm disappears
To carry you need to crouch near the mob.
To drop mob you need to crouch and jump.
Downloads
Posted : 30/05/2020 7:28 pm