MCPE/Bedrock Lots More Food Bedrock Add-on
Lots More Food Bedrock Add-on
Ever thought that Minecraft needed more food? Then this is your pack! This pack adds more than 50+ Foods. use to replenish those health and hunger points. This pack also includes MorePlants to get the food. There is also a Java Edition Version.
Lots More Food Pack
By: Legopitstop & Sir_Craftypants
Find the crafting recipes at my website legopitstop.weebly.com Found a bug? Fill out a bug report Here
All Food & items for recipes: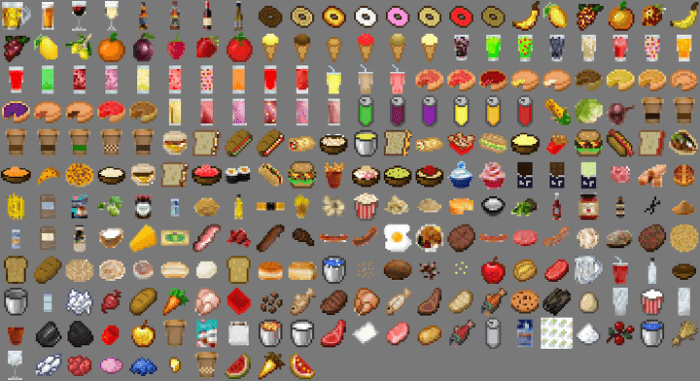 bacon recipe: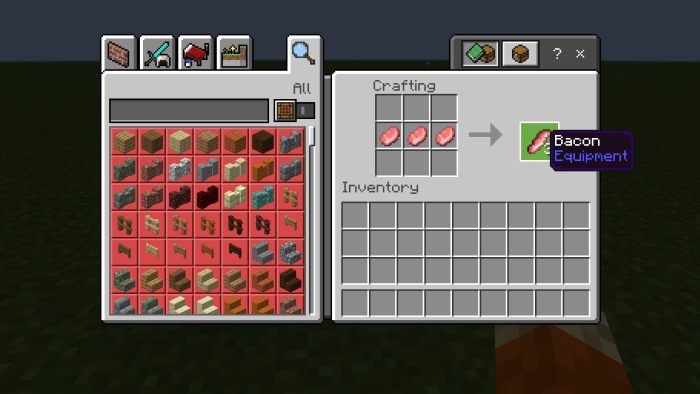 THIS IS A WORK IN PROGRESS PACK, EXPECT BUGS!
Built on 1.14.1 windows 10
– – – – – – – – – – – – – – – – – – – – – – – – – – 
Changelog
v0.0.6
+ New "Test Features" button (BP & RP settings)
+ Morefood villager moved to testing
+ Plant-able Crops!!! turn on pack test features
+ Added the rest of the recipes
+ Added title logo "Minecraft Lots More Food"
+ Added .zip and .mcaddon links/mirrors
+ Added turn on test play to how to install.
Installation
1. Click one of the links to download
2. Once you have downloaded click the .addon file.
3. It should automatically open Minecraft and install
4. Make sure to have an experimental game on.
Turn on pack testing for plantable seeds & more!
1. Go to behavior packs
2. Select pack and click the gear/settings
3. Slide the slider to the left until it says "testing - ON"
4. Do the same for the resource pack.
CREATOR: LEGOPITSTOP (TWITTER) (YOUTUBE) (FACEBOOK) (INSTAGRAM) (WEBSITE)
Posted : 14/01/2020 11:16 am