MCPE/Bedrock Casual Skin Pack 4.0 BIG UPDATE!
Casual Skin Pack 4.0 BIG UPDATE!
Without App/Installer, the extensions and notifications.
This skin pack is ideal for people who want to change skin quickly and who want a skin pack with a mix of skins. This skin pack contains 790 skins!
if there is any bug or something else write it in the comment and if you have an idea for the next update write it.
 if you want the old version with Halloween skins just click on the old version link!
The same thing with Christmas skins, You'll find all the links scrolling down the page.
You can follow me on:
TWITTER:   https://twitter.com/SimonIT71111471  Here you can suggest some skins you want in the next update.
YOUTUBE:   https://www.youtube.com/channel/UCXWN-A_nleF4-NMTRYzWufA
My USERNAME on XBOX is @SimonITA23
The maximum number of skins for the next update will be 15-20 skins
-if you want to see what the skin pack adds, read the description after the photos-
Here are all the photos of the Skin Pack!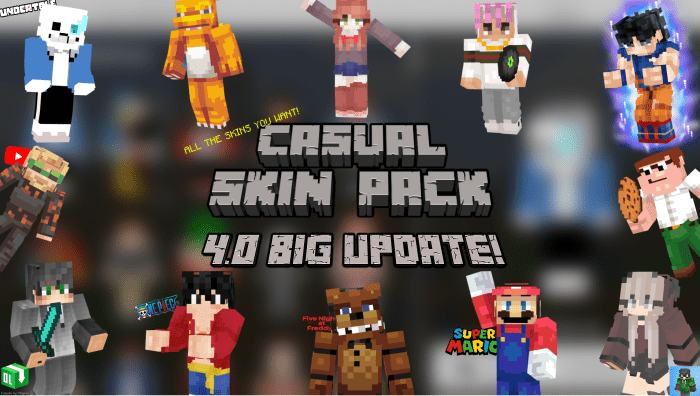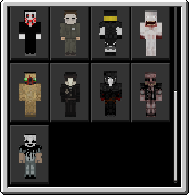 This skin pack includes: 
Undertale characters
Famous Cartoon Skins
Boy Skins
Boy HD Skins
Christmas Boy Skins
Girl Skins
Christmas Girl Skins
Girl HD Skins
Famous Singers Skins
Super Mario Skins
Kirby Skins
Marvel Skins
Famous Youtubers Skins
Most Famous Anime Skins
Fnaf Skins
Famous TV Series Skins
Deltarune Skins
Meme Skins
Horror Skins
And much more!
Added more boy skins
Added more girl skins
Added Joker from Persona 5
Added more Naruto skins
Added Vsauce Micheal
Added new variations for the Dream skin
Added more Helltaker Skins
Added Mai Sakurajima from Seishun Buta Yarou
Added Evangelion skins
Added more HD skins
Added more meme skins
Bug fixes
And much more
Installation
(LINKVERTISE Q&A BEFORE DOWNLOADING)
Yes,it is.
It's also one of the safest shorteners since there aren't annoying pop ads with a lot of viruses, +18 ads and other ads that are, sometimes, impossible to close.
2.Do I really have to read an article to get to the download?
No, you have only to wait 12 seconds and close it.
3. Why do I have to pay Linkvertise Premium?
     You don't have to pay for it. If Linkvertise forces you to do that is because you have an AdBlock extension or other.
In short, Linkvertise is not a virus-filled shortener, you just need to have a little patience to complete all the steps and you can download Casual Skin Pack!
How to download
Click one of the links

Complete the robot reCaptcha

Do everything that he tells you, read an article etc.

When you download it, it should open itself for mcpacks and import in Minecraft

Enjoy the skin pack!
creator: https://twitter.com/SimonIT71111471
Downloads
Posted : 21/09/2020 9:41 am