For months Minecraft fans have been asking for Minecraft Dungeons on mobile, well today it's finally happening with the Xbox cloud (beta) – As of today September 15th 2020 players can access dungeons with touch controls or controller on Android devices.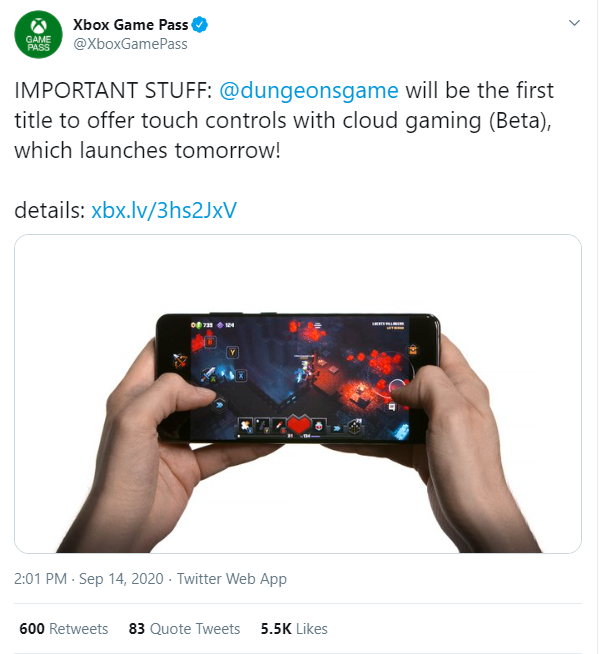 The Minecraft franchise has always upheld the principle that gamers should be able to play their favorite games on the device of their choice without compromising quality or experience. Today, we're excited to share that Minecraft Dungeons is taking a step in that direction by launching with cloud gaming on Android phones and tablets tomorrow through Xbox Game Pass Ultimate.
While most people will begin their cloud gaming journey by attaching a phone to a controller with a clip, many in the mobile gaming community have told us they want touch controls. Minecraft Dungeons will release via cloud gaming with fully-optimized, native touch controls and a redesigned UI to make it easy to navigate the inventory or in-game menu on a smaller screen. We've also created new overlays and custom layouts to optimize the game for touch. These optimizations will ensure the actions players take the most (move, melee, ranged attack, roll/dodge) are in the most intuitive locations on screen. The experience will make Minecraft Dungeons feel like it was designed specifically for mobile, bringing a level of familiarity to those who've been playing mobile games or Minecraft on a phone or tablet for years.
With Xbox Game Pass Ultimate, players can jump on their mobile device and play online co-op mode with their friends on Xbox One. Later this year, when Minecraft Dungeons enables cross-platform play, mobile players will also be able to join forces with friends on Windows PC and other consoles.
Microsoft's vision for cloud gaming is to provide you with choice in how and when you play games. Beginning September 15, Xbox Game Pass Ultimate members in 22 countries will enjoy the freedom to play more than 100 games on their Android mobile phones and tablets via the cloud. But as we think about ways to create a unique gaming experience for each individual, it's about more than just the device they play on; we want to offer more choice in how the game is played.
This is just the beginning: the Xbox Game Pass Ultimate team will continue to work with developers to add touch to even more titles soon after cloud gaming goes live on September 15. We couldn't be more excited to work with Xbox Game Pass Ultimate to deliver this experience for Minecraft Dungeons to the gaming community. We look forward to collecting feedback from the Minecraft Dungeons community in the coming weeks and continuing to provide more ways to play.
Source: https://news.xbox.com/en-us/2020/09/14/minecraft-dungeons-optimized-touch-controls-cloud-gaming/?ocid=XGP_soc_omc_xbo_tw_Photo_lrn_9.14.1