Minecraft's collaboration with NVIDIA releases today, earlier this year Minecraft released the Minecraft RTX beta letting players experience Minecraft like never before. Better graphics, real time shadows, shaders and much more. Today the update will be rolling out for all players to experience.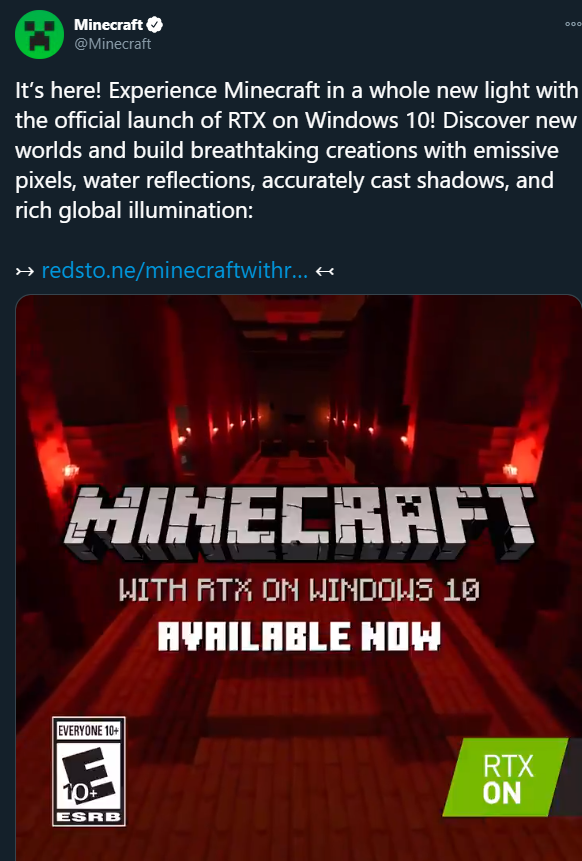 to experience Minecraft with ray tracing on Windows 10, you must first have a ray tracing capable GPU, for example, a GeForce RTX 2060 GPU or better. Players who install Minecraft ray tracing will by default see everything enhanced with a special physically based rendering texture pack, which interplays with the ray-traced effects to further enhance the experience. There are plenty of maps and worlds with this feature – all available on the Minecraft Marketplace.
You can also create your own ray tracing worlds with physically based rendered texture packs (PBRs). Sounds complex? Don't worry! NVIDIA has created a great starter pack and helpful guide that explains it on a level that even a caveman like me can understand. A perfect opportunity to turn my hideous dirt houses into extravagant eco-lodges!
A good thing to keep in mind is that ray tracing-supported maps and worlds doesn't affect gameplay mechanics or the way Minecraft works, so you can still play together with anyone using a Bedrock version of Minecraft. Players without ray tracing-capable hardware will see Minecraft's standard visuals – which means they'll see my dirt h… er, lodges… for what they truly are. Good thing I only accept ratings from ray tracing players!
There's more! After all, what would a luxurious lighting launch be without some sort of dazzling multiplayer content to dive into? The release comes with two new free worlds – Colosseum RTX (available now) and Dungeon Dash RTX (coming soon). You can download both from the Minecraft Marketplace.
COLOSSEUM RTX
Creator: BANV
Pack type: World
Colosseum RTX is a world that takes you to the historical Colosseum in its glory days during the Roman Empire. Here you can explore beautiful views, collect historical trivia, or look for all the hidden locations spread across the area. And if you don't want to marvel at the scale and engineering genius, there's always the arena, where you can fight in with up to three friends!
COMING SOON:
DUNGEON DASH RTX
Creator: BlockWorks
Pack type: World
Dungeon Dash is laden with action! Fight your way through a series of increasingly challenging dungeons nestled in a beautiful ray-traced medieval countryside. Conquer up to ten dungeons in unique biomes, featuring locations such as a village built up in the trees, floating islands in the sky, and a mysterious mine.
LIGHTS, CAMERA, ACTION!
Minecraft ray tracing on Windows 10 is out now, bringing with it so much content to explore! To learn more about the features included and how you can experience it, visit minecraft.net/updates/ray-tracing.
source: https://www.minecraft.net/en-us/article/minecraft-ray-tracing-windows-10-launch-today