Don't be alarmed, it's just a hot fix update for Minecraft Bedrock. The Minecraft developers have been working hard to squish the bugs found in 1.16.200, it's likely one of the last updates for Minecraft bedrock in 2020 as the developers go on holiday to enjoy Christmas and New Year.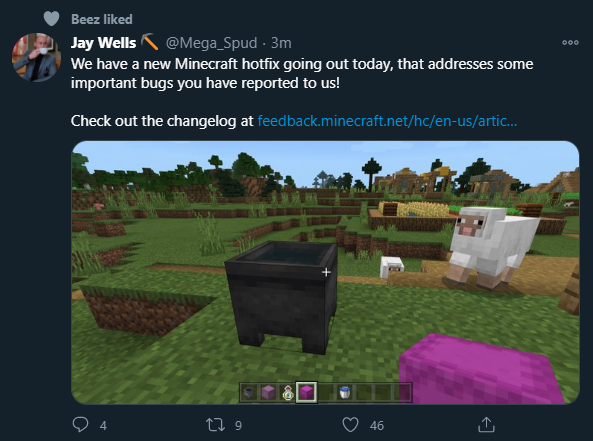 The team has been hard at work fixing some top reported issues in Minecraft. Please report any bugs you find on bugs.mojang.com and post feedback to feedback.minecraft.net. Happy mining and happy crafting!
For players on Windows 10, some issues can be fixed by updating your graphics drivers. Please see the article on Updating your Drivers on Minecraft for Windows 10 to ensure you're running the latest updates provided by your graphics hardware manufacturer.

Fixes:
Fixed the game failing to launch on multiple Windows 10 devices (MCPE-102530)
Double Chests placed at chunk borders no longer become partially invisible and don't crash the game when they are opened (MCPE-106030)
Shulker boxes no longer lose everything inside their inventory when undyed using a cauldron (MCPE-108196)
Fixed main menu buttons being invisible on older AMD graphics cards
Fixed a crash that could occur after suspending and resuming while creating new world on Android
source: https://feedback.minecraft.net/hc/en-us/articles/360053622851