MCPE/Bedrock Fortnite GUI R
Fortnite GUI RP
I am really proud to introduce Fortnite GUI Resource Pack, which we were working on last 3 months. This also reveals a brand new project that I work on. The pack reshapes existing Minecraft Bedrock vanilla graphics user interface to Fortnite styled GUI. Fortnite is still one of the most played games these times. Despite strong competition in the form of PlayerUnknown's Battlegrounds (PUBG), Call of Duty: Warzone, Apex Legends, Battlefield V Firestorm and more, it is one of the best battle royale games of all time.   
Creators: Nogard (Twitter, YouTube, Facebook), AgentMindStorm (Twitter, YouTube)
About  
The resource pack redesigns current Minecraft graphics user interface to Fortnite styled GUI. Every button, every border and every bar was redesigned to Fortnite style with genuine colors. Also the mobile user interface was changed according to the mobile version of the game. So what are you waiting for? Grab your free Fortnite GUI for Minecraft now!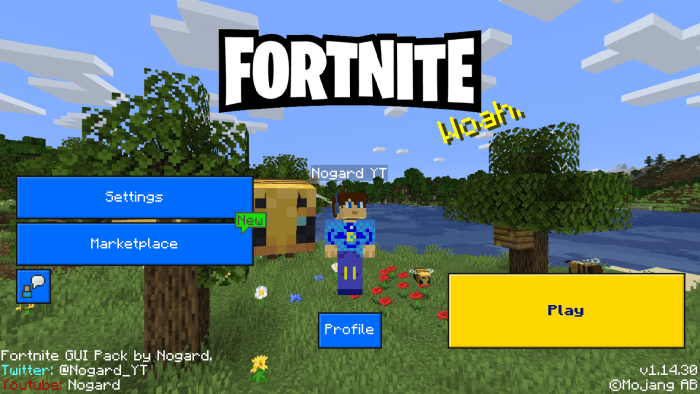 Features 
The pack does not change just the colors and shape of the start (title) screen, but it also replaces actual UI bars like hearts (health), golden bars (shields), hunger bar, xp bar and more to Fortnite styled ones. Look at the picture below, it shows look of a mobile user interface.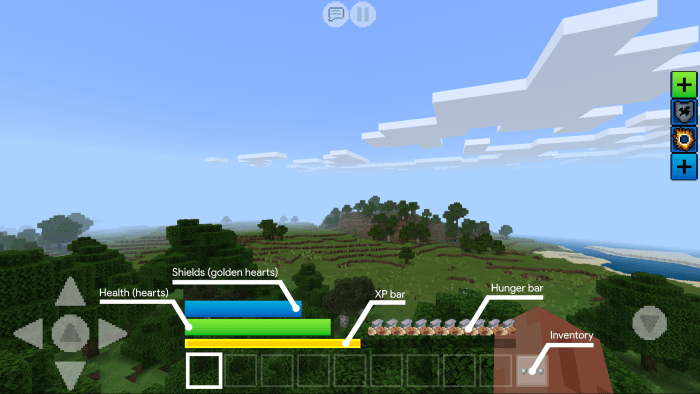 The design of the Fortnite styled pause screen. Absolutely everything was recolored and a lot of elements were completely redesigned.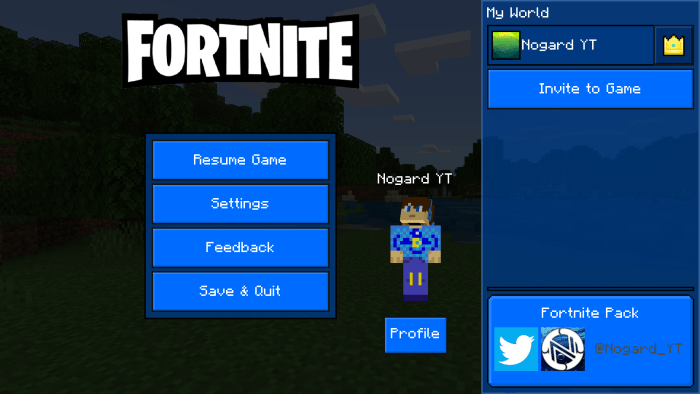 Licence Terms 
All rights reserved. By downloading this Minecraft add-on, you agree to these terms. No part of this work may be reproduced or transmitted without the author's permission. Persons with permission must share the add-on using only official download links with credit to the author. Illegal distribution of this add-on in apps, websites and YouTube videos and earning money from Nogard's property will be punished by law. For other ways of sharing and editing the source code, you must contact the author. 
Contacts: 

Email: [email protected]
Twitter: @Nogard_YT 
YouTube: Nogard
Installation
Download Fortnite GUI RP.mcpack, click on the file in a file explorer to import into Minecraft. Importing will occur automatically. Once it is finished, go to the settings on title screen and active Fortnite GUI RP. After exiting the settings, the GUI will be applied, but it might take a while. Some devices requires to restart the game to load the GUI properly.
Download Fortnite GUI RP. mcpack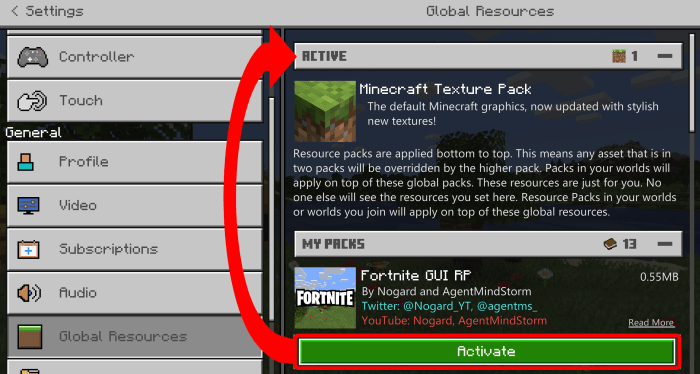 Installation
Downloads
Posted : 25/03/2020 8:04 pm