MCPE/Bedrock One Player Sleep System for Muliplayer (Add-On)
One Player Sleep System for Muliplayer (Add-On) 
OPSSFM Add-On allows you to help your friends which is away from you (in-game) against the dangers of the night! Apply the add-on to your world, and take on simple instructions to try! Designed for Minecraft: Bedrock's mobile platforms (Android* & iOS), which does not use Scripting API!
created by: r4isen1920
pack version: v1.1
Usage & Instructions
I. Acquiring Bed
1a. Gather 3 pieces of wood and wool of the same color
1b. Make a Crafting Table
1c. On the Crafting Table, craft a bed.
II. Using the One-Player Sleep System
2a. Find an unoccupied bed to sleep on (in-game).
2b. Step on the bed's pillow, before clicking the bed to sleep.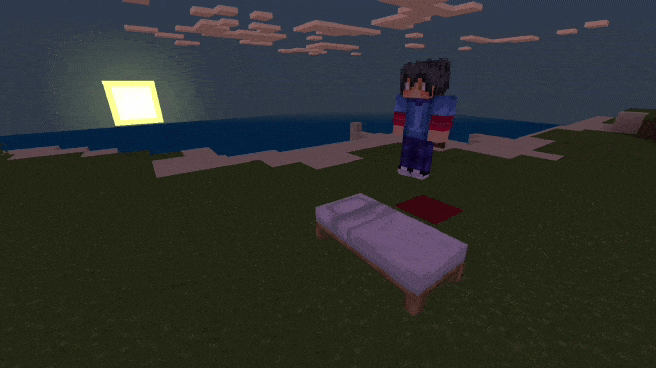 Note: don't do something like this, otherwise it won't work;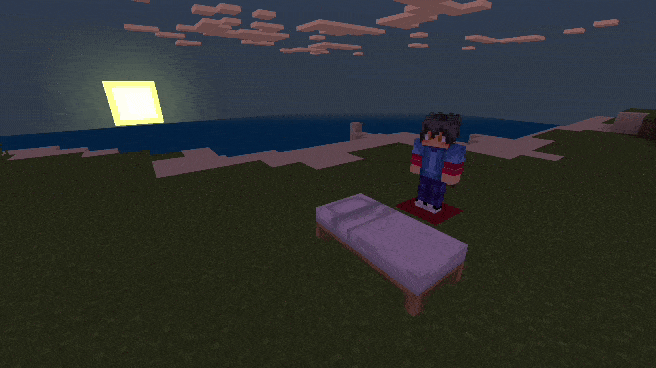 2c. Patiently wait for the time cycle, you will hop out of your bed once it detects its already daytime!
Script Version
There is another similar version of this add-on which uses Scripting API. Currently, Scripting API works on Windows 10 as of now. So alternatively, I created this add-on to allow mobile platforms to experience this feature.
You can download that version from here, created by BlkCatGmg.
Compatibility
Effective for the current (release) version.
*ANDROID: There's currently a bug where the add-ons, which mainly involves animation_controllers (like this one), on Android. In some cases, add-on may not work on Android. With this, there is currently nothing I can do.
iOS: Add-on should work fine. Compatible
Windows 10: Add-on should work fine.  Compatible
Please take note the Compatibility may differ between devices. It shouldn't affect your gameplay, but your usage and experience with the Add-on, that is.
 CREATOR: R4ISEN1920 (TWITTER) (FACEBOOK) (WEBSITE)
Downloads
Posted : 03/12/2019 2:46 pm