MCPE/Bedrock KillerCube's Detection Pack!
KillerCube's Detection Pack!
Detecting players who sneak, jump, sleep, or maybe even swim is hard to do perfectly with command blocks. Well, that ends now with KillerCube's Detection Pack!This pack is jammed full of little detections you have always asked for in Minecraft Bedrock Edition!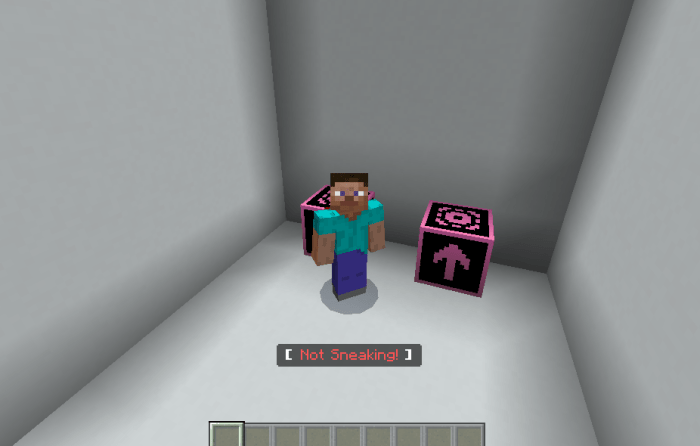 (THE SCREEN CAPTURE I AM USING DOESN'T ALLOW ME TO TAKE A SCREENSHOT OF WHEN I AM SNEAKING BUT IT DOES TELL ME WHEN I SNEAK!)


This pack is made for map developers who would like to have a little more flexibility on what they are allowed to detect!
In this detection pack, you will be able to detect a player with certain queries such as OnGround, Sneaking, Jumping, Sleeping, and more! To get started with the pack simply go to behavior packs when creating a new world and add the pack to the world (Enable cheats). You will then be able to type/function Help to get started with the pack, it will explain how to import the settings and it will guide you through how the pack works! It is recommended to have prior command knowledge for this pack! This pack is used with commands to be able to detect queries on a player!
List Of Scoreboards(These will change for every player, each one will change to 1 for true, and 0 for false):
player.sn – Sneaking
player.m – Moving
player.og – On Ground
player.j – Jumping
player.of – On Fire
player.sp – Sprinting
player.sl – Sleeping
player.sw – Swimming
player.a – Alive
player.i – Invisible
player.iw – In Water
v1.0
Also comes with a template map to show you how all of the features work!WHEN OPENING THE TEMPLATE WORLD, MAKE SURE TO SELECT THE BEHAVIOR PACK UNDER THE BEHAVIOR PACKS SECTION OR IT WON'T WORK!
Changelog
Showed more detail on how to use and what it looks like to use the pack with commands.
creator: https://www.youtube.com/channel/UCjtLixqrJY4ahSKVXaiXrKg?view_as=subscriber
Topic starter
Posted : 19/01/2021 11:19 am