MCPE/Bedrock A Christmas Nightmare
A Christmas Nightmare
Christmas time!! And you're definitely on Santa's naughty list.
Santa and his merry band of Elves are hard at work, preparing for your visit. And waiting. Waiting. Just. For. You.
Bring a touch of the festive season to your Minecraft survival world! This pack will spawn in your very own Santa's Workshop, full of elves, and with Santa (of course). But Santa's having a very bad day, and... you'll see.
To get a workshop you need a big, black present and they will only appear in the Snowy Plains biome. You might need to wander around for a bit, and there's green and red presents that contain a random gift (or maybe even nothing). The green ones typically have better (and more) drops.
Once you find a black present, chop it open and... stand back. Defeating this Santa army is not something to be undertaken lightly. It's a tough ask, be prepared. Golden Apples are very useful.
There's a wide variety of mobs at play here. Let's see!
Santa
The Great Big Man in Red himself, Santa. Faster than you might think. Much faster. He will be out to give you a special Ho Ho Ho. Defeat him and your troubles have just started.
Melee Elf and Archer Elf
Who even knew such elves existed? You'll know all about them shortly. The melee version is small, fast, immune from fire damage. The Archer version is somewhat similar, but their hobbies include shooting you with their bow.
Teleporting Melee Elf
Not quite as tough as the standard Melee Elf, however they can teleport.
Fireball Elf
Not only will they try and set you on fire, their fireballs will occasionally levitate you.
Big Elf
Big and big trouble. They are fast, have a decent melee attack, and can also give you Slowness. Better drops than normal, and rarer than most elves (thankfully). There is a rare chance they will spawn in Snowy Plains at night.
Sled Santa
Once you have defeated the first Santa, he will spring back to action in his sled. He'll have a number of Elven passengers to rain literal fire down on you. Defeat this guy and your troubles are over. Enjoy your new Workshop!
Deer
They will occasionally attack you. Also the Elves enjoy riding around on them. You can too!
Sled
If you can defeat the Elves at the reins of this particular vehicle, you can jump in and fly it around. How about an aerial battle with Santa? The stuff of dreams, you can make it a reality. It's a two seater.
Presents
You'll find these everywhere. There'll be a bunch in the workshop itself. Open them up and you'll find all sorts of goodies. Unless you've been naughty, in which case you'll get a lump of coal.
Santa's Workshop
They come in two varieties; original and fancy. You have a 50/50 chance of getting either.
Original
Fancy
Other Things
You'll also find a few Christmas Trees around. You can chop them down and place them wherever you like. They will spawn in one of four sizes. Candy canes about and so do cute Gingerbread Houses.
Note! The black presents will transform into green or red presents after some time.
Having Santa Troubles? You may need an MNO Jeep: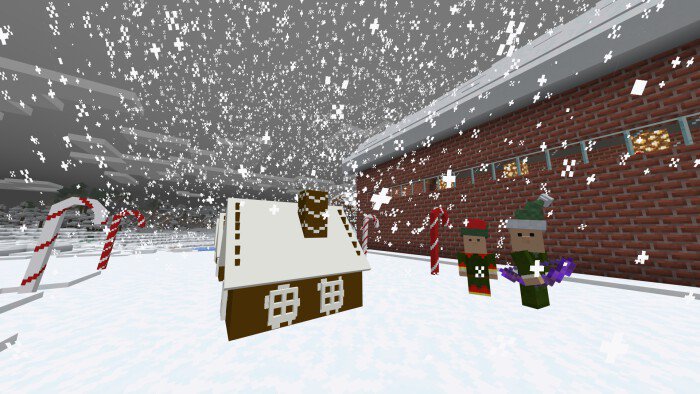 To the merry youtubers out there, if you do a review/showcase, thank you! Please link back to *this page* . Cheers!
A big THANK YOU to Kevin MacLeod (incompetech.com) for the *perfect* version of Jingle Bells. Licensed under Creative Commons: By Attribution 4.0 License
http://creativecommons.org/licenses/by/4.0/
Changelog
Added the terrifying Big Elf
Added a new, huge workshop
Fixed Sled Santa's boss bar and increased health
Added levitate attack to Fireball Elf
Made present immune to fire
Made normal Santa more deadly
Increased Sled toughness
Added new drops to Santa, Elf, Presents and Sled Santa
Downloads
Topic starter
Posted : 28/11/2022 7:28 pm